Sifu Alexander King, M.S.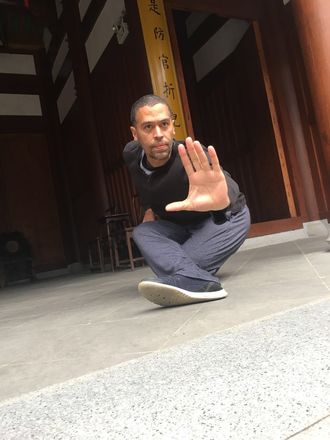 Alexander King began teaching taiji chuan in the Washington metro area in 2000. He began his studies of Yang style taiji chuan and taiji push hands with Sifu Paul Ramos and has since studied for many years under Master Liu Xiaoling of Shanghai, China, who currently resides and teaches in Rockville, MD. Please visit his website,
wudanglongmen.com
as well. Master Liu Xiaoling is one of the most respected and exceptional kung fu masters alive today. Alexander became a disciple of Master Liu Xiaoling in 2003, becoming a 19th generation Wudang Longmen (Dragon Gate) Taoist adept. He has spent years now refining the Wudang martial arts and studying Wudang Qigong.
Alexander is a three time USCKF grand champion of internal martial arts, a four time Yang style taiji chuan international gold medalist, a two time Xing-I international gold medalist and has won multiple national taiji push hands titles. He currently judges at national and international tournaments world wide.
Alexander also holds a Master's of Science degree in Herbal Medicine and has a private home practice in Washington. He offers consultations in herbal medicine, nutritional and wellness counseling.
---
Wudang Longmen Lineage
| | |
| --- | --- |
| | Master Liu Xiaoling with teacher, Master Jing. Master Jing taught Master Liu his Six Harmony Shaolin and Shaui Jiao. |