Schedule of Classes: Kung Fu & Tai Chi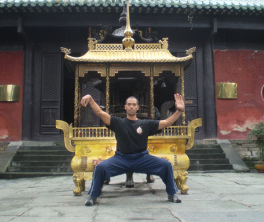 Sifu King at Wudang temple in Hebei, China.
DragonGateD.C. offers adult classes in the following styles of kung fu:

Tai Chi Chuan (Yang, Chen, Wudang)
Xing Yi
Bagua Zhang
Shaolin Liu He
Tai chi push hands
Wudang
Children's classes are offered in:
Shaolin Liu He and the basics of kung fu.




ADULT TAI CHI CLASSES - (Advanced Yang style): Tuesday mornings from 10:15-11:15am
Saturday mornings from 9:30-10:30am

(Intermediate Yang style): Tuesday evenings from 6:30-7:30pm

(Beginner Yang style): Monday evenings from 6:30-7:30


ADULT KUNG FU CLASSES - (Bagua Zhang): Saturday mornings from 10:30-11:30am
(Xingyi chuan): Saturday mornings from 11:30-12:30am
('Open styles' practice): Wednesday 6:30-7:30

YOUTH SHAOLIN KUNG FU CLASSES - Monday and Wednesday afternoons from 5:30-6:30pm

TUITION RATES:
* One class per week - $90/month
* Two classes per week - $120/month
* Unlimited classes per week - $150/month

Private lessons in all styles are available to be scheduled.


---
---
Why Study Tai Chi & Kung Fu at DragonGateD.C.?
In old times, the Taoist of the Wudang mountains of central China would practice their daily kung fu outdoors in the crisp, clean air of such elevations. Cloud covered mountain peaks and evergreen trees as far as the eye could see provided the setting (I know, I've spent time there!). These surroundings alone were a healthful compliment to their practice. At DragongateD.C., classes and training likewise take place outdoors in a beautiful wooden training hall. Its a bit of a sanctuary for tai chi and kung fu students, nestled within the Brookland neighborhood of the nation's capital.

Come see it and you'll feel why these arts are best practiced in the outdoors, where Qi flows and gathers without the impedance of four walls. And worry not, there are infrared heat lamps for the winter and fans and shade for the summer.

Taking classes at DragonGateD.C. is a good choice for many reasons. The school is dedicated to the history and legacy of Wudang kung fu. The foundation of this system is built on the Taoist principles of health, refinement, patience, cultivation, longevity and self-preservation. You'll be taught these arts while developing an understanding that through commitment and dedication to the practice, you'll reap the rewards so generously offered by the Tao ('the Way').

You won't find the market-place, business driven model of most martial arts schools out there. You won't be required to purchase belts and sashes that confirm your "level of advancement." You won't be urged to pay for assessment exams every 6 months. You won't be pressured in any way. You'll simply be encouraged to do your best.