Welcome to DragongateD.C.: Offering instruction in the traditional Kung Fu styles of:

DragonGateD.C. is a traditional school of the Chinese martial arts - Kung Fu and Tai Chi. Nestled in the quaint neighborhood of Brookland in Washington D.C., DragonGateD.C. offers a unique training ground and learning space for those fortunate enough to have found kung fu and chosen to follow its path to health, strength, confidence, fighting skill and self defense. Rare is the development of a system for both wellness and combat with a foundation resting on the triumvirate of physical, energetic and spiritual well-being. This is the philosophy of the internal kung fu arts of the Dragon Gate Taoists of Wudang mountain, from whence DragonGateD.C. gets its name.
Sifu Alexander King performing Xing Yi Fanzi Chuan during the Master's demonstrations at the Chinese Kuoshu National Championships.
The unique and beautiful training hall at DragonGateD.C. offers year-round outdoor training. Practice your kung fu and Tai Chi Chuan in the clean air and natural setting that inspires and motivates.
Sifu Alexander King performing Wudang Tai Chi Yuan Gong during the Masters demonstrations at The Gift of Tai Chi tournament in Baltimore, MD.
Herbal Medicine: Combining Tradition and Modern Methods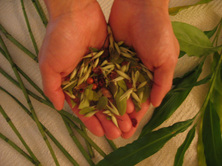 The person without a single disharmony in well being is truly the exceptional person. Most of us in today's fast paced and high stressed world deal with either chronic or acute health issues. Some big, some small but nevertheless present at various points in our lives, we inevitably seek assistance in addressing some imbalance to our health and well being. While the true source of health and healing lies within our day to day choices and frame of mind, herbal medicine is a vital tool to help nudge the body-mind back to a state of harmony and balance. Alexander King, M.S. may be able to assist you with the knowledgeable use of herbs towards reaching your health goals.
---